Community Colleges of Spokane, October 2022
Community Colleges of Spokane Partners with WSU COMSTRAT Course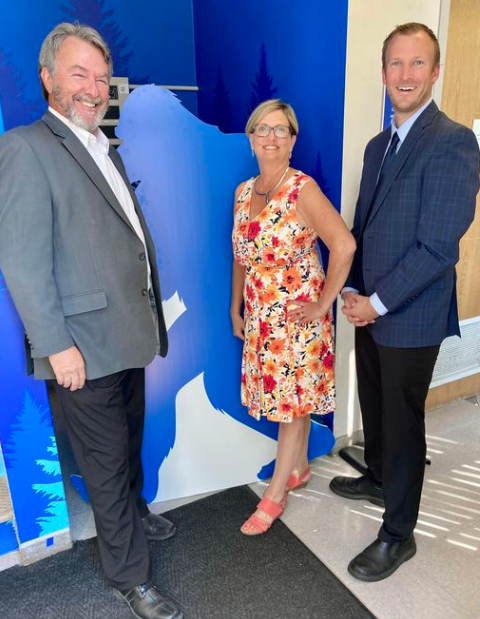 The SFCC Cabinet found Bigfoot at the Pullman Center. From left to right VP James Brady, President Kimberlee Messina, and VP Patrick McEachern.
Thanks to the support of the WSU Center for Civic Engagement, Community College of Spokane in Pullman (CCS) served as a client for Dr. Margaret Ritch and her students in their WSU Public Relations Management and Campaign Design course, COMSTRAT 485.  CCS pursued this opportunity to evaluate its messaging and visibility around the Palouse and across Whitman County in a comprehensive and strategic way. CCS also presented an intriguing design challenge for the students of creating hyper-local messages and relationships for a smaller unit that operates within a large brand.
Students in the COMSTRAT course divided up into two teams to conduct their own research, focus groups, strategy briefs, client presentations, and two distinct communication and marketing plans for CCS in Pullman.
Patrick Forester, Assistant Dean with CCS in Pullman shared "we prepared and signed up for this opportunity because we wanted professional advice and guidance to understand what we are communicating well and what we can improve in our relationships around the Palouse. We got so much more from working with two research and design teams over an extended period of time. The students' attention to the issues we brought forward, their engagement with our Center's students, faculty, and staff, and their research in the community was thorough and top-notch professional. The teams also left us with actionable recommendations, including the multi-layered campaign theme of Finding Bigfoot (the Community Colleges of Spokane Mascot) in the Palouse."
Dr. Margaret Ritsch observed that CCS was "an appreciative and attentive partner. The students really felt supported in their efforts, especially the primary research." CCS has already incorporated some of the recommendations into its current communications and marketing planning.
Learn more about the Pullman CCS Center
Read more stories about WSU Service-Learning Projects in the Engaged Scholar.